NEUROSCIENCE, ATTACHMENTS & RELATIONSHIPS
The Neurobiology of
Loving Relationships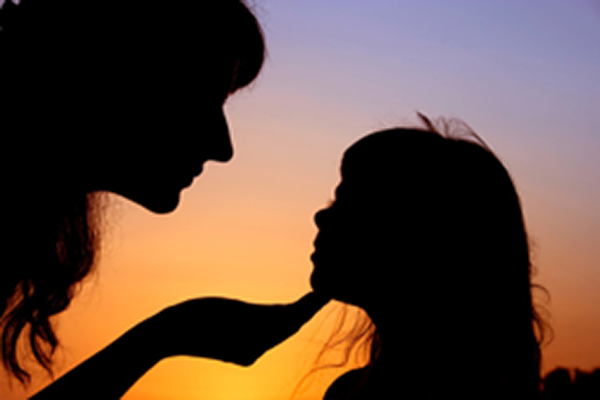 One of the greatest gifts you can give another is to make them feel seen, heard and recognized as the miracle they truly are. ~Emmanuel
DISCOVER THE LATEST RESEARCH IN NEUROSCIENCE THAT ENHANCES OUR CAPACITY FOR DEEPENING INTIMACY
The foundation for establishing healthy relationships relies on developing secure attachment skills, thus increasing your sensitivity for contingency and relational attunement.
According to Allan Schore, the regulatory function of the brain is experience-dependent, and he says that, as an infant, our Mother IS our whole environment. In this work, we will learn to understand how the early patterns of implicit memory – which is pre-verbal, sub-psychological, and non-conceptual – build pathways in our brain that affect our attachment styles. Clinically, we can shift such ingrained associative patterns in our established neural network by bringing in new and different "lived" experiences in the Here and Now.
THE ROLE OF THE THERAPIST
Healing into wholeness takes the active participation of at least one other brain, mind, and body to repair past injuries – and that can be accomplished through a one-to-one therapeutic relationship, or one that is intimate and loving. In exploring the "age and stage" development of the right hemisphere and prefrontal cortex in childhood, we will discover how the presence of a loving caregiver can stimulate certain hormones, which will help support our growing capacity for social engagement and pleasure in all of our relationships. Brain integration leads to connection and love throughout our entire lifespan.
HEALING WITH NEUROSCIENCE
We will bring deeper focus to the role of Neuroscience in restoring the brain's natural attunement to Secure Attachment. Our brain is a social brain – it is primed for connection, not isolation, and its innate quality of plasticity gives it the ability to re-establish, reveal, and expand one's intrinsic healthy attachment system.
We will use the power of mastering Brain-to-Brain / Body-to-Body interactive regulation that starts with mother and infant, and evolves with partner-to-partner or therapist-and-client relationships.
We will also repair of mis-attunements, promoting safety and protection through healing techniques that facilitate true mutuality and help us cross the bridge back to Secure Attachment, including:
• intergenerational focus to counter the effects of role reversal
• the practice of mindfulness
• contact nutrition through nourishing gaze, prosody in the voice, or safe touch
All of the above information and DARe training was developed by my teacher Diane Poole Heller Ph.D. You can get more information on her Somatic Attachment Training Experience at
WWW.DIANEPOOLEHELLER.COM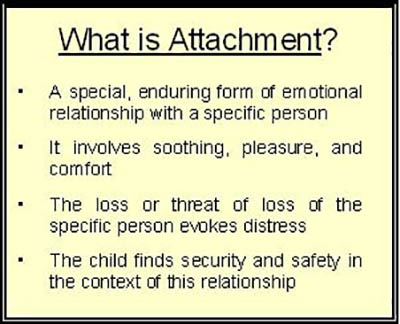 WHAT IS ATTACHMENT?
Attachment is a special emotional relationship that involves an exchange of comfort, care, and pleasure. John Bowlby devoted extensive research to the concept of attachment, describing it as a "lasting psychological connectedness between human beings". Bowlby shared the psychoanalytic view that early experiences in childhood have an important influence on development and behavior later in life. Our early attachment styles are established in childhood through the infant/caregiver relationship.
In addition to this, Bowlby believed that attachment had an evolutionary component; it aids in survival. "The propensity to make strong emotional bonds to particular individuals [is] a basic component of human nature".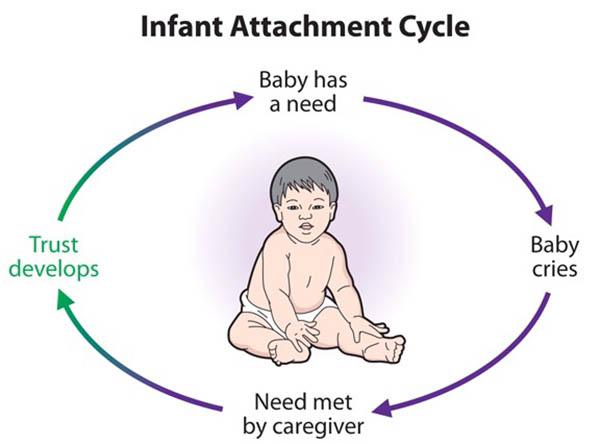 CHARACTERISTICS OF ATTACHMENT
Bowlby believed that there are four distinguishing characteristics of attachment:
Proximity Maintenance – The desire to be near the people we are attached to

Safe Haven – Returning to the attachment figure for comfort and safety in the face of a fear or threat

Secure Base – The attachment figure acts as a base of security from which the child can explore the surrounding environment

Separation Distress- Anxiety that occurs in the absence of the attachment
IMPORTANT NOTICE AND DISCLAIMER
Hazel Williams Carter is not licensed in California (or any other state) as a psychiatrist, psychologist, social worker, marriage family child counselor, or psychotherapist.
Join my weekly newsletter to find out the
latest news about my groups and events.